Hello! Over these past few weeks, I have been following my "Gantt chart" timeline to complete my project work. The Gantt chart is a great visual way to organize a project to show the necessary steps that need to be done by deadlines. In my timeline, I am given 19 weeks to fully complete my project. These Gantt charts are comprised of milestones and action steps. Milestones are the bigger accomplishments in our projects while the action steps are smaller and more in depth to complete the milestones.
My Gantt chart has 12 milestones (labelled in red). One of the main driving factors in my Gantt chart which is unique to others is the -Workflow- a milestone, this is meant to be repeated for each of my Art Piece milestones. My workflow consists of 11 steps, these steps help me improve efficiency in completing my art. The large art pieces are based on landscapes and fantasy design. I also have several client tasks which take different directions depending on the client. A good example of one of my client pieces is a design I made for a classmate called "Writers In bloom" where I created book cover art for their project.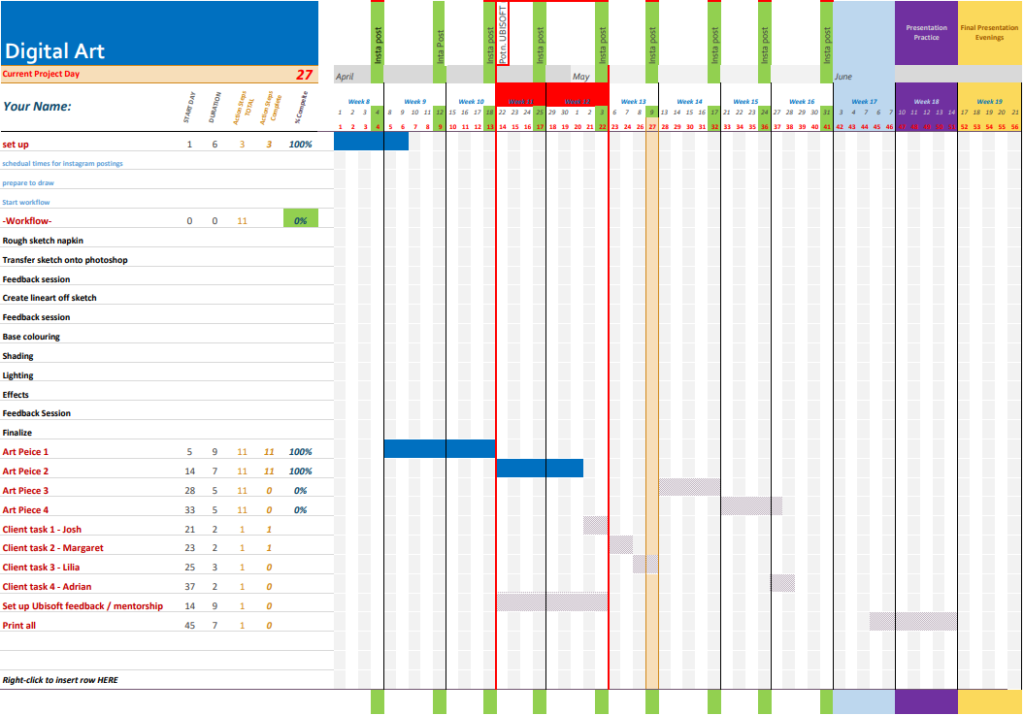 According to my Gantt chart, I am currently two days behind because the direction of my last client piece didn't pan out. My Ubisoft milestone didn't work out as planned because of proprietary issues. This won't affect the rest of my project and hasn't put me behind. I will be adding some more client tasks to my Gantt timeline because I have been gaining more clients, this will push me to work harder and I will have less time to work on my project.
During these next few weeks, I will be adding some more tasks onto my timeline as well as pushing forward on my large-scale art pieces. Following my workflow to complete these on times. I will be working hard to get my client work done while juggling my large art pieces. During week 17 will be printing many of my art pieces and posting them to Instagram, signified by green at the top of the timeline.